Welcome to the newsletter. As you have likely noticed, I am not publishing every Friday and have changed the publishing schedule to occasional. The theme and content will still be the same - 3 articles on EdTech, OpenEd and online/blended learning that I have found interesting. Just reducing the frequency a bit.


I am still working on improving the formatting of the newsletter. I am still not 100% happy with how the WordPress plug-in I am using (MailPoet) formats the newsletters. For example the last one went out without images. I suspect that the issue is a combination of MailPoet and the new WordPress (still beta) Gutenberg editor I am using. Hopefully, when Gutenberg officially gets rolled out in WordPress some of the formatting issues will go away.


As always thanks for reading. Onto this issues 3 stories.



What they have come up with is an excellent primer for any would be online educator that builds on the theoretical CoI model with some pragmatic and practical suggestions on how to develop a CoI borne out of years of experience by seasoned and practiced online educators.


The crowdsourcing that Dunlap and Lowenthal undertook was a bit more involved than simply asking on Twitter for recommendations. Dunlap and Lowenthal conducted their crowdsourcing over the course of 2 years, and included a healthy does of face to face crowdsourcing at 7 different professional education conferences to come up with a robust list of best practices.


When they did their analysis, they discovered 4 prominent themes emerging from the recommendations by the online educators.

Supporting student success (example suggestion: Model what you want from students (e.g., model how to share and interact in a discussion forum, provide exemplars of projects and other assignments, and engage in think-alouds that illustrate how to read and take notes from primary sources).
Providing clarity and relevance through content structure and presentation (example suggestion: Make everything explicit; say more than you think you need to say.)
Establishing presence to encourage a supportive learning community (example suggestion: Use video to introduce yourself to the class as the instructor. Ask students to do the same.)
Being better prepared and more agile as an educator. (example suggestion: Sometimes you have to leave the LMS and find other technologies that help you better achieve your instructional goals.)
Around these 4 themes, Dunlap and Lowenthal then list the specific strategies and approaches that were suggested to them. If you have never taught an online course before, this is a very good paper filled with practical, classroom tested advice that will provide a good starting point for your journey.


As I watch my kids (14 & 11) progress through the public school system, I have often thought that there are big pieces missing in how they are taught to learn.
This year, my 8th grade daughter had a teacher that was very explicit with the students and gave them instructions on how to take notes using the Cornell method. She has made their notes a gradable assignment. It is the first year where my daughter has had a teacher be so explicit with her study skills curriculum and I wish it would happen more often.


Especially with regard to how to learn online.


I have often thought that, when kids reach high school, that there should be a requirement that they take at least one course fully online to help them develop the skills necessary to be a successful online learner as those skills are quite different than the skills needed to be a successful student in a face to face classroom.


Which is why I agree with much of what Joshua Kim says. If we are serious about developing life-long learners who will need to continually update their skills and abilities throughout their life, then we should be placing more of an emphasis on helping students develop the skills they will need to be lifelong learners.


Like Joshua, I am becoming more convinced that MOOC's of all types, along with other forms of online learning, will be a big part of my kids lifelong learning strategy. So, shouldn't we be doing more to help prepare them for a future that includes lifelong learning online?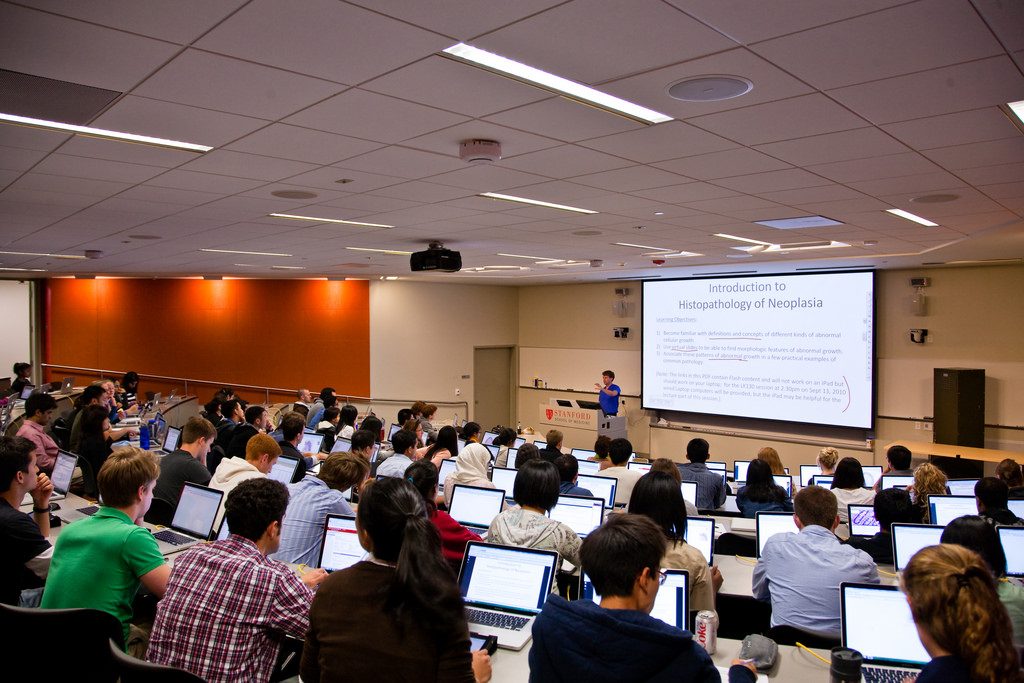 There is no shortage of articles in the higher ed zeitgeist about whether or not devices should be allowed in classrooms, often written from the perspective that devices in the classroom are distracting for other students.


This post from UBC's Christina Hendricks is a bit different in that she focuses on the use of devices in the class as assistive technologies for learners with disabilities.


Christina has crowdsourced a great list of ways in which devices are used in the classroom by learners with disabilities, and notes that blanket bans on devices in a classroom requires learners who need the devices to get special accommodation to use their devices. This often singles out learners with disabilities, and forces them to divulge something that they may not wish to divulge about themselves:


There are many practical and pragmatic examples here of how students use devices in the classroom as assistive devices, which is one of the strongest reasons I know to resist blanket technology bans in classrooms.


EdTech Factotum is an occasional newsletter of 3 interesting things I have read, watched or listened to in the world of educational technology, open education, and online & blended learning. Check out previous newsletters or subscribe to the weekly newsletter and, if you like this and find it useful, feel free to forward onto a friend or colleague who may be interested in subscribing. Unless otherwise noted, all content CC-BY Clint Lalonde.